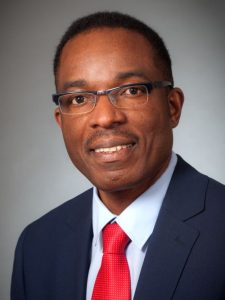 Mampoko Wete
Founder & Chief-Executive-Officer (CEO), Wete Consulting GmbH
Mampoko Wete, Dipl.-Kfm., MBA from the University of applied sciences Ernst-Abbe Jena-Germany, founder and Managing Director of Wete Consulting GmbH.
For over 15 years, he has worked in management positions in a variety of areas such as sales, controlling, purchasing, finance, IT and marketing at a large international oil company, Total Deutschland GmbH.
Most recently, as head of project within Total Deutschland,
Mampoko Wete was responsible for the management and implementation Oil projects of the Direction Tankstellen Tank-Cards Deutschland, both at a local or international level, where he has made a name for himself by improving and implementing an efficient working process.
His involvement in many different international projects has enabled him to work in different European countries.
The quality of its interculturalism and multilingualism (French, German, English, Lingala, Kikongo and Portuguese) guarantees his customers the excellent opportunity to enter in to the African market and to realize their international vision on a sustainable basis.
Wete Consulting
Since the founding of Wete Consulting, Mampoko Wete pursues his entrepreneurial vision and goals as following:
Vision
Mr. Mampoko Wete is eager to use his many years of international experience, professional skills, linguistic and intercultural skills as well as his contacts in the African continent to use for the establishment and development of cooperation and business relations between German companies and dedicated partners in African countries. .
Goals
His consulting work will create an effective win-win relationship for German companies and partners in African countries.
This means: fair partnership, fair condition, transparency and mutual respect as ethical aspects.
Target group
Our offer is targeted at companies, as well as institutions and organizations who are active in the African continent.
Fabian Gloyer, Dipl.-Kfm.
Advisory Board & Senior Consultant, Wete Consulting GmbH
For more than 15 years he has worked in finance, legal and human resources in the tax, wholesale trade and management consulting sectors.
In his last position, Mr. Fabian Gloyer headed the commercial management of an organizational consulting in Berlin.
He is always interested in the creation of a multi-perspectival advantage of all actors, preferably in an intercultural economic environment.
Wete Consulting
Dr. med. Ullrich Burkhardt
Advisory Board & Senior Consultant, Wete Consulting GmbH
Management and consulting in health care system
As a pediatric anesthesiologist, PD Dr. med. habil. Ullrich Burkhardt worked for many years at the University of Leipzig.
Now his thinking and doing are focused on health care as well as health care system.
Wete Consulting
Support for founding companies
We support you in the clarification of important questions such as:
- What is the legal requirements for founding?
- Should we invest directly or indirectly?
- Which regional bases should be selected for efficient market processing
Market analysis for the sub-Saharan countries
Market entry in the African continent requires a specific culture-dependent approach.
Wete Consulting clarifies questions such as:
- How big is the demand potential for your offer on the African continent?
- Which target groups should you primarily address?
- What strategy should you use to reach your target groups as efficiently as possible?
- Which business locations on the African continent are favorable for you?
- What is the competition situation at the respective location in the relevant market?
- How can you sustainably position your business on the continent, increase
potential and possibly expand?
In the market analysis, we use qualitative and quantitative methods, market segments, market volume and market development.
With a SWOT analysis, we identify market drivers and market entry barriers, potential weaknesses as well as opportunities and risks.
This gives you a clear market overview, which you can use in your strategic business decisions.
Benefit from our excellent knowledge of sub-Saharan markets, continuous market analysis and market observation to ensure the success of your business.
Individual strategy development
Together we will develop individual African market entry strategies, marketing strategies and assist you step by step until the successful completion of your business on location.
Establishment of business contacts on location
We establish contacts with the relevant government, ministries, political partners and institutions in order to safeguard investment projects and to favorably influence decision-making processes (lobbying).
In Africa business relationships are based on trust. Trust is therefore the prerequisite and the beginning of every serious and sustainable business relationship. Business relations in Africa can only have success if you have a strong personal relationship with your business partners. Instigating and maintaining these relationships requires a large investment of time, which Wete Consulting has already done for you. Use this for your investment objectives.
Intercultural consulting and intercultural training
Different cultures have different mannerisms. Anyone who wants to get in contact with people, to negotiate and communicate, must know their habits and values.
Many German entrepreneurs describe the African markets as "difficult markets", because these markets are unknown, in particular the way in which decisions are made.
Business relations from an African perspective are always personal. These decisions depend upon a relationship cultivated over time and based upon a history of mutually beneficial interactions.
These include a respectful approach, trust, friendliness, fair conduct, a valued approach, and partnership based on transparency as important success factors for the African market.
The mentality of African business partners plays an important role in business relations. This mentality is influenced by culture, education, religion and tradition in the country. It affects every decision in the business. It is of great importance to know the mentality and adapt to it, so that your services and products will be sold successfully in the market. These intercultural skills are the prerequisite for successful cooperation.
Wete consulting will accompany you, and carefully prepare you how to properly conduct yourself in order to avoid cultural pitfalls and secure your investment on the African continent.
Individual delegation trips to Africa: VIP business trips
We can accompany you as a trusted partner on your journey.
The rapid development on the African markets illustrates the potential of these markets.
In order to ensure that your African investment is successful, and to develop long-term business relationships, you must know about cultural differences, specificities and bureaucratic formalities.
We organize Africa business trips in order to give you a first-hand understanding of the local economic potentials, by introducing you to relevant networks and developing your market opportunities.
Investment trips can also be offered for individual companies on different topics and target countries.
Before starting your business trip to Africa, we will introduce you to the habits and customs of your African hosts.
Wete Consulting GmbH prepares you professionally with intercultural training for your journey!
We will prepare you so that you can move easily and autonomously in the cultural and business life of Africa.
Advice Support on foreign trade promotion and public funds of the state
You are looking for ways to finance your business in Africa and do not know how to promote it financially? We are experts for seeking and finding the appropriate funding programs for your business. We can prepare the project application with the competent authorities in Germany and take over operational activities. We will always represent your interests and find the right solutions for your company with decision-makers.
On the African continent, many developments are expanding rapidly, especially in the area of digitization.
Mobile telephones and the Internet, for example, are increasingly changing the continent. These allow greater developmental leaps than a century's developmental aid could accomplish.
7 out of 10 Africans own a mobile phone. Digitization and telephony require a large and urgent investment for the expansion of this area. Take advantage of Africa's economic growth potential.
More and more startups in Africa are shooting up like trees. They are creative, dynamic and successful. Instead of war, hunger, poverty and disease, economic growth and new-found stability is giving the founder scene a gold-rush atmosphere due to rapidly growing digital technologies.
Young Africans take charge of their own destiny with creativity and innovation
and are eager to participate in the development of their own continent. In order to increase the sector of African start-ups, foreign investors are very welcome. German know-how and investment represent added value for Africa.
Now is the right time to enter the African market.
Wete Consulting is there for you, in order to assist you and your company to reap the benefits of in this market boom in Africa.
We accompany you at every step in your Africa project.
Growing energy demands in Africa - Enormous potential for energy companies!
The sunshine duration is much higher in Africa than in European countries.
Every African has the right to electricity. Electrification is a prerequisite for the economic, political and social development of the countries.
In Africa, the sun is free and an inexhaustible energy resource. Photovoltaic panels convert directly the sun's rays into electricity without damaging the environment. It's can produce enough electricity to supply schools, hospitals, pharmacies, water pumps, houses, small and middle enterprises…
Africa's energy demands are growing immensely and the backlog demand is enormous.
We assist and support you in the analysis, planning, development and implementation of your projects in the domain of solar energy "photovoltaics", water treatment and waste water treatment in Africa.
For this, we utilize our whole experience. And we work with a strong team.
With you, we act successfully!
Use our expertise to develop successful business relationships and create an African network
E-Mail: info@wete-consulting.com
Phone: +49 (0)30 / 39 74 45 08
Fax: +49 (0)30 / 39 74 45 09
Tile-Wardenberg-Str.28
10555 Berlin
Germany
Member of Chamber of Commerce and Industry (IHK) of Berlin
If you have any questions about our services and offers,
you can use the following form.